Exclusive: Laing O'Rourke and Morgan Sindall among firms to battle it out with Willmott Dixon for Scape's major works framework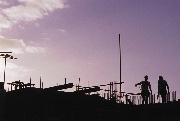 Laing O'Rourke, Morgan Sindall, and Interserve are among six firms shortlisted for Scape's £1.25bn major works framework, Building can reveal.
Building understands public procurement body Scape has invited six firms to bid for the sole contractor role on the framework, which is worth up to £1.25bn over four years.
The firms invited include: Laing O'Rourke; Interserve; Morgan Sindall; Bouygues; and Willmott Dixon, the current holder of the contract.
The sixth firm invited is not yet known.
Wates and Vinci, tipped to make the shortlist, are both understood to have missed out.
Willmott Dixon won the job on the previous two occasions it was tendered, while Skanska won the role the first-time around.
Over 125 public sector clients procure work through Scape, with projects including a wide range of buildings, including schools, care homes, leisure centres as well as residential buildings.
Scape is owned by six local authorities – Gateshead council, Debyshire council, Derby city council, Nottinghamshire council, Nottingham city council and Warwickshire council – and reinvests surpluses back into the business.
Mark Robinson, Scape's chief executive, would not comment on the identity of the firms selected.
He said: "We received a number of expressions of interest from contractors bidding for our National Major Works Framework. All were of an extremely high standard, and we have been impressed by the quality of the submissions.
"These have now been very carefully reviewed against set criteria. Six companies have been shortlisted to go through to full tender stage on the basis of offering best value for money and a high quality approach to the current needs of public sector construction.
"We are unable to provide any further details at this stage due to the confidential nature of public procurement and in the interests of a fair and competitive process. We expect to announce the successful contractor in April 2013."
Source: http://www.building.co.uk/news/six-shortlisted-for-%C2%A3125bn-scape-contract/5049041.article