LIFE Build pride themselves in providing value, reliability and high-quality workmanship for new build, fit out and refurbishment projects. The sectors they specialize in are Education, Homes, Leisure, Interiors, Commercial, Industrial and Ecclesiastical. They asked KMS to assist with their Dynamics 365 Implementation.
Back in 2019, LIFE Build Solutions were not using a system to manage their leads and projects they were simply sharing excel and word documents. As you can expect this became quite unmanageable and they wanted a system that could deliver:
• Outlook compatibility for appointments and ability to link emails.
• Cloud based with easy access via internet browsers for laptops, tablets and mobiles.
• A project focused system with an ease to see what stages the projects were at.
• Ability to link projects to architects, clients, funders, engineers, project managers and quantity surveyors, for both companies and contacts.
• An easy way to report on the data and present it in a clear manner with dashboards.
• As users were not use to a system, they wanted it to be easy to use and manage.
They were using Office 365 so an obvious choice was adding Dynamics 365 licensing and getting a partner to assist them with the setup, customization and training of the proposed system. This is when KMS Software stepped forward to offer our services. All the requirements were standard offerings covered in the suite of functions and features that were in the KMS Project-CRM solution. So, a trial of Dynamics 365 was setup, the KMS Solution was imported, consultancy, customization and configuration of the system were made. Martin Brackpool, the Business Development Director of LIFE Build was key in expressing the field-by-field requirements and the necessity of the ease of reporting. KMS worked closely with Martin to deliver the system that met all their needs.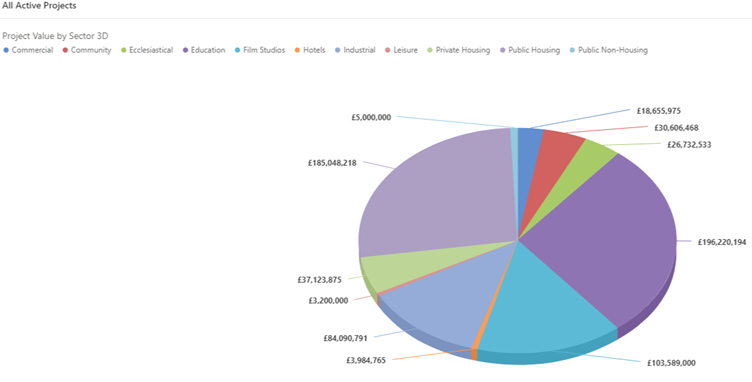 Nearly two years on from the implementation of the system, it is now fundamental to the way LIFE Build Solutions manage and report on their projects. The Dynamics 365 dashboards are often presented at board meetings to show how the company are performing. The system enables the company to track its pipeline efficiently and also provides reports giving valuable insight into procurement trends, geographic shifts in workload, sectors and intelligence on which clients and consultants are providing the work. Using these reports, KMS also allows LIFE Build to plan its corporate events more efficiently by targeting those key accounts the company wishes to engage with.
Martin Brackpool, Business Development Director commented:
"The team at KMS and in particularly our account manager, Paul Doerr, have been highly efficient in setting up our version of the system. They have also responded quickly to any maintenance requests and for a number of changes to our existing reports. KMS is an invaluable tool and assists us in our business planning and strategy moving forward."