Construction Data Suppliers
Choosing a Project Data Provider for Construction – Barbour ABI or Glenigan?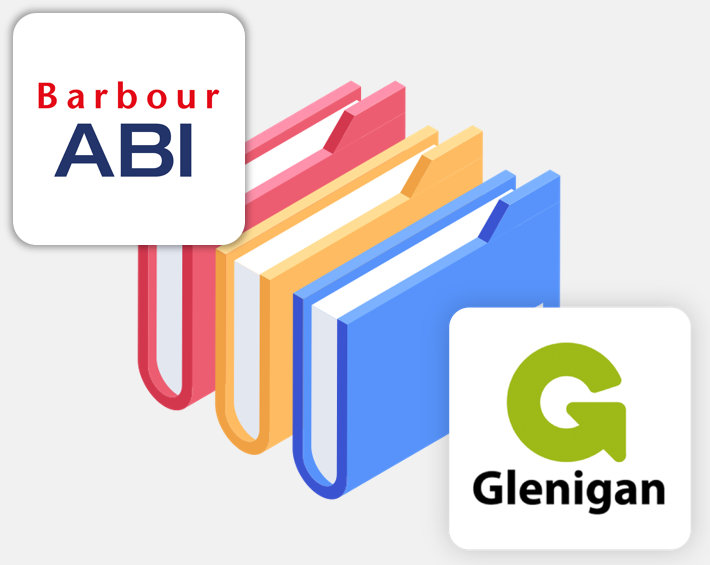 Running like Ariadne's thread through the history of KMS have been many data suppliers and lead providers. The idea of filling your CRM system with leads and hot prospects is a tempting one. Here we take a look at data available for construction companies.
Getting project data for construction firms are fundamental, but where should you start? How do you get access to them? Who are these providers? What are the different services and features they offer? Are there significant differences between these providers?
Many years ago there were quite few providers to choose from, but now there are only two main data providers in the UK and they are Barbour ABI and Glenigan.
UK: Barbour ABI and Glenigan
So which is the best UK data-supplier? Glenigan or ABI? KMS has worked with both.
Over the last 30 years both Barbour ABI and Glenigan have positioned themselves as UK market leaders as they have developed powerful research facilities. ABI are based in Cheshire (they started off in an old church) and Glenigan down on the beach in Bournemouth, but both have full UK construction project data coverage. They both have approximately 100 reserachers hitting the phones to gather construction project data. They have secured thousands of client subscribers, including government and international construction groups.
If you are a larger builder or construction firm with a reasonable budget and looking for well researched project data, available via cloud-access, one of these two are the answer. They both have databases full of projects, key companies and contacts (with their specific roles in the project) going back many years. Both interfaces offer an easy and user friendly way to search and filter through all the data. Individual projects in a specific sector or projects between a certain value can be targeted. It is possible to tag or favourite projects and put them in your own personal list so you can keep an eye on them. You can even add your own notes against certain projects. But which one should you go for?
To be fair both are pretty much the same and the same project data is available in both. They will claim differences, but to be blunt, they have competed against each other for so long now, they have ended up with very similar interfaces and pricing structures.
The pricing is confusing and they have made it complex, but due to this deals can be made. Primarily the price depends on what you need e.g. a specific sector, where you are based or the region of the data you require and the level of detail you expect. It makes sense to talk to both companies even if it is to just play one off the other.
Integration with Dynamics 365
Whichever data provider you decide to choose, the good news is the KMS Data Connector can integrate it into Dynamics 365.
In regard the UK data providers, the KMS Data Connector connects directly to the backend API and all the users need to do is tag or favourite the project or projects they want in the providers interface and it will then import not only the project, but also the related companies and contacts linked to the project with the specific role they play in the project. This data will be kept up to date by scheduled imports into Dynamics 365 numerous times daily.
Currently KMS Software are offering the integration to Dynamics 365 from £1,760 + VAT, for either of the UK sales data providers. KMS will just need to do a little consultancy to setup and confirm the sectors, project roles and areas a client is interested in and then configure the mappings to Dynamics 365 accordingly. Please contact KMS for details on this or integration with international data suppliers.
Recently KMS was involved in changing over the integration from one of the UK providers to the other. Although quite complex KMS were able to apply the skills learnt in regard fuzzy logic and duplicate detection in matching records that had been imported by the other data provider.
International Data Suppliers
Further afield there are data suppliers for all parts of the world. Each one specialising in their own regions. KMS has worked with: Action Batiment (France), BCI (Australia), Byggfakta (Sweden), CIS (Ireland), CIC (N. Ireland), Construction Research Australia, Cordell Acumen (Australia), FW Dodge (USA), SqFoot (USA), Mittag Verlag GmbH (Germany), MONI (France), iBau Planungs-informationen (Germany), ten Hagen (Holland).